The concert on July 14th will take place at Den Frie Centre of Contemporary Art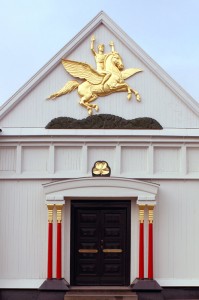 In 1891 Den Frie Exhibition was founded by Johan Rohde, J.F. Willumsen, Vilhelm Hammershøj, the couple Harald and Agnes Slott-Møller, Christian Mourier-Petersen and Malthe Engelsted.
The goal was to create an alternative to the juried exhibition at Charlottenborg, inspired by the French Salon des Refusés. At the first exhibition eighteen artists participated with all in all one hundred censorship free works of art. Among the exhibiting artists there were several who at the time were very recognized, such as P.S. Krøyer, Julius Paulsen and Kr. Zahrtmann.
In 1893 Den Frie Exhibition rented a site at the town hall square, and architect Thorvald Bindesbøll designed the new wooden pavilion. That same year, great international artists such as Paul Gauguin and Vincent van Gogh participated with works of art for the exhibition. Den Frie Exhibition moved to the Aborre Park in 1898, and a new wooden pavilion was designed with Willumsen as the architect. He drew inspiration from Egyptian architecture and Greek temples among other things. The entrance was characterized by four red columns with golden capitals and the entrance hall was enclosed by two small square buildings with pyramid-shaped roofs and, because of lack of space, Willumsen added an octagonal extension in 1904-05. Like today the façade of the building was decorated with a front relief of Pegasus, which in Greek mythology is a symbol of the free art and the inspiration of poets.
When the tenancy was rescinded in 1913, the building was torn down and moved to its present location at Oslo Plads in Copenhagen. The building was partly rebuilt based on the old drawings of Willumsen, and the building materials were reused.
Since then the building has been extended several times, and in 1986 Den Frie Centre of Contemporary Art scheduled as a historical monument. In 2002-2006 the building went through an extensive restoration, and in April 2009 Den Frie Centre of Contemporary Art was granted a running subvention from The Ministry of Culture. Therefore the house is now in a rapid development and is continuously undertaking new initiatives.