The concert on July 12th will take place at Overgaden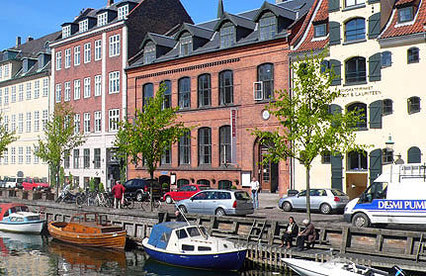 Established in 1986 by a group of local artists, Overgaden has for more than two decades been among the leading non-profit exhibition spaces for contemporary art in Copenhagen. Situated by a canal in one of central Copenhagen's most historic neighbourhoods, Overgaden occupies two large floors of a 19th century building which used to house a printing works.
From the outset Overgaden had a strong identity as a space run by artists for artists. A constantly evolving 3-person board of artists would programme the exhibitions from incoming applications submitted by other artists. Through this formalised application procedure, Overgaden has consistently offered young artists the opportunity and space to develop expansive, ground-breaking solo exhibitions. Many of these artists have gone on to have important international careers.
A public grant from the Ministry of Culture covered basic costs such as rent, electricity and publicity material but apart from this core funding, exhibiting artists were always expected to do a major part of the work, including invigilating their own exhibitions.
A lot has changed at Overgaden in the course of the last 20 years – artists no longer have to guard their own work and there is even a small staff. As part of recent measures to restructure the institution, Henriette Bretton-Meyer was appointed director in 2006 and thus became the first full-time director with a curatorial background. However, to this day board members remain for the most part artists. Currently, the board include artists Jytte Høy, Gudrun Hasle and Kristoffer Ørum, curator Charlotte Bagger Brandt (chair) and consultant Morten Lundholm.
To a large extent the exhibition programme remains based on applications from artists and curators, largely from Denmark but also from further afield, and thus Overgaden retains its character as an open and accessible institution. However, in order to further enhance the profile for the space, Overgaden has started to initiate its own exhibition projects. Overgaden currently presents around 10 exhibitions a year (often in tandem) as well as a comprehensive programme – unrivalled in Denmark – of artist talks, film screenings, seminars and discussions.