Buzz
Want to help us promote SMC 2009?
Yes, it's that easy!
insert a logo (available below) in your blog or web page linking to http://smc2009.smcnetwork.org/
on Delicious, bookmark the conference website (and tag it with relevant tags if you wish).
User of Delicious, you are also welcome to tag other relevant web resources (posts, photos, other websites, or papers after the conference, etc.) using the tag "smc2009"
Flyer:
Feel free to download this flyer, print it and distribute it to those that might be interested.
Poster:
Here is the official conference poster, in A2 format (1.3 MB).
SMC 2009 logos: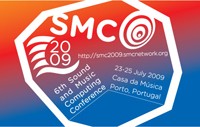 Thanks!
Document Actions